Bringing you the highest quality caravans that suit NZ roads and the NZ lifestyle, with all the latest tech on offer. Sunset Caravans are manufacturers of quality and durability along with luxury and style.
With our range on offer, we have models to suit your individual travel plans from family trips away to a luxurious home on wheels. We can help you tour our main highways or indulge your desire for off-road adventures. We can quench your thirst for a weekend getaway or meet your preference for an extended time on the open road.

We can custom build SUNSET Caravans to your requirements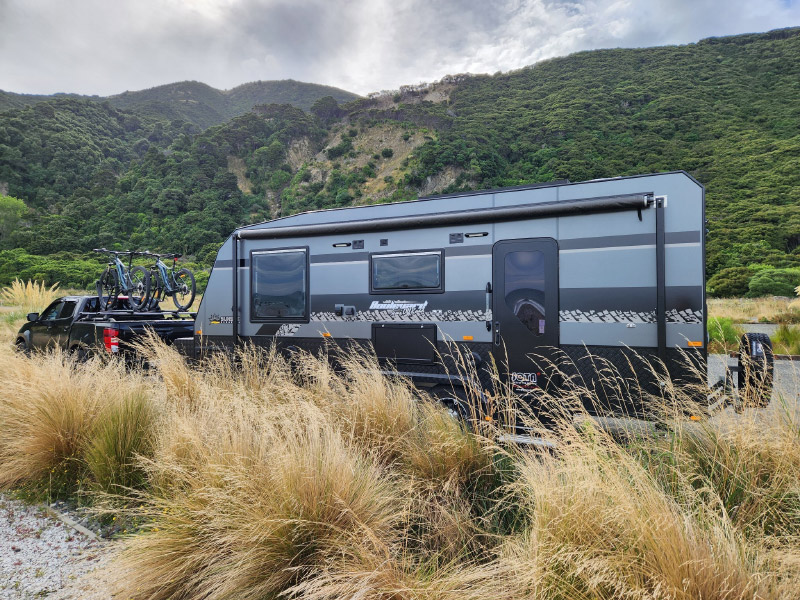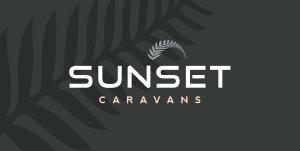 Are you ready to hit the road and explore the great outdoors? Do you crave adventure and the freedom of the open road?
Our Sunset Off Road Caravans are made in Australia and built to withstand the toughest terrain for the ultimate off-road experience. With rugged off-road features like heavy-duty suspension and all-terrain tyres, you can take on any obstacle in your path with confidence.
With a variety of sizes and models to choose from, you're sure to find the perfect Off Road Sunset Caravan to suit your needs.

Bold and adventurous the Sunset Boulevard boasts traditional charm and a larger-than-life layout, that just makes you say 'wow' this is the van I want to travel New Zealand with, the moment you step inside it.
When you say yes to the Sunset Boulevard, you're committing to making awesome travel adventures today, not tomorrow.

The Rodeo has you covered on every front and the reason it's a 5-star caravan is that it's jam-packed full of impressive features that give you the luxury you deserve with the freedom to travel wherever you want to in this beautiful country.
A luxurious apartment on wheels, the design is modern and fresh, featuring smooth composite paneling and high checker plate protection all around.

When you want to explore our beautiful country with no limits and have jam-packed fun, choose the Sunset Wildtrekker.
Because come rain, wind, hail or shine – this van (like all our off-roaders) is designed to keep you safe and comfortable while enjoying the outdoor pleasures of camping, without sacrificing any of homes creature comforts. With rugged off-road features like heavy-duty suspension and all-terrain tyres, you can take on any obstacle in your path with confidence.

If you are seeking fun, freedom and adventure – the Sunset Daytona is the perfect choice to explore New Zealand in style.
The design is modern and fresh, featuring smooth composite panelling and high checker plate protection all around.
For the best road trip around stunning New Zealand full of fun-packed-adventure the Sunset Daytona is unbeatable.

Our Family Haven caravan is designed with your family's comfort in mind. With a range of configurations that include bunk beds, our caravans can accommodate families of all sizes.
With practical features and comfortable interiors, you'll be able to enjoy all the benefits of traveling with family without sacrificing your comfort and convenience. The perfect getaway caravan for you and your family to enjoy together.

Makes living and travelling with your family easy, rewarding and highly enjoyable. When you invest in this caravan you get peace of mind knowing it's your reliable adventure companion that will go the distance being built with leading technology, an innovative design philosophy and bespoke craftmanship.
This caravan has it all and oozes the modern-luxury that you and your family deserve for exploring anywhere in New Zealand – at your own leisure / pace – exactly how caravanning should be to enjoy each moment and make memories for a lifetime.

The annexes from Great Annexe offers options for every scenario. Whether you're travelling light, or taking everything but the kitchen sink, we have an annexe setup that is right for you. Whatever your situation calls for, we have you covered!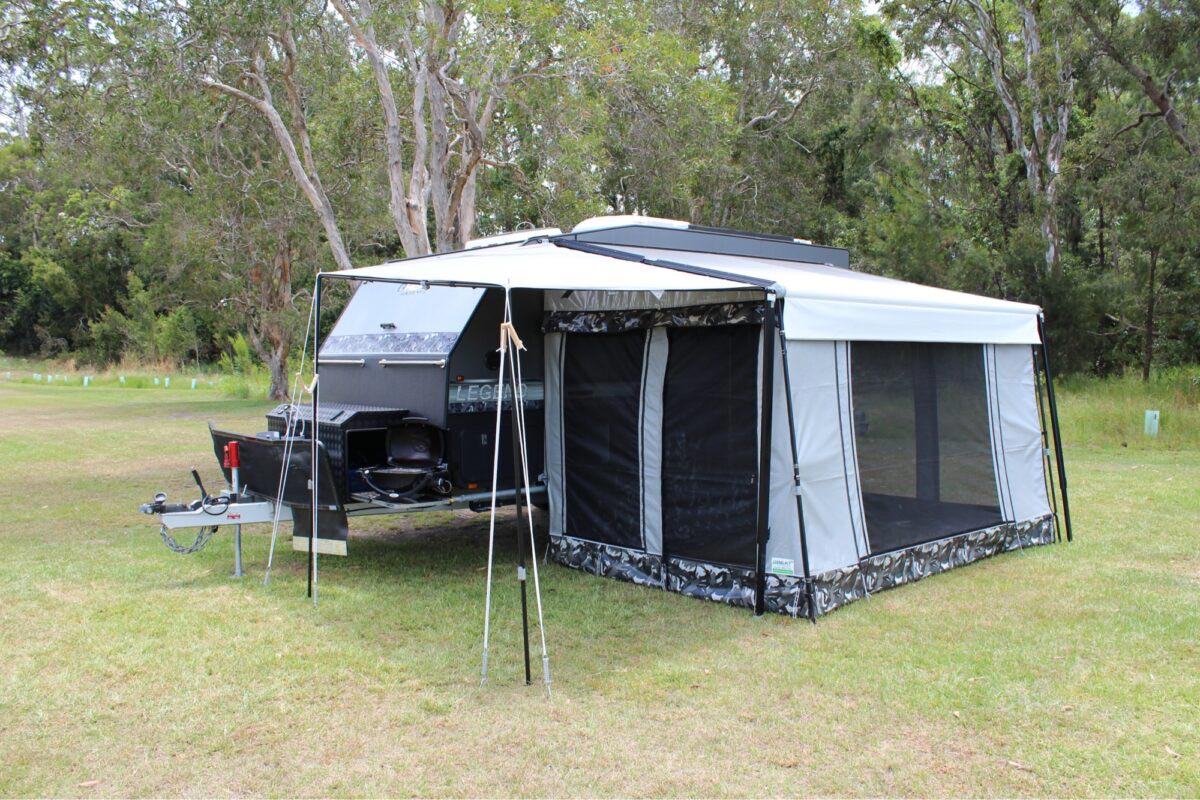 Testimonials

I was looking for a new outback style caravan and went to see Mike and Jared while I was in Nelson for work. What impressed me over the other dealers I had been to, was their product knowledge, passion, honesty, and enthusiasm.
Throughout the whole purchasing and build process, which was affected by a number of outside influences beyond their control, they constantly communicated with us and offered us solutions to expediate the delivery process. The final product was exactly what we had expected and to see, and the pride they took in knowing that they had delivered us such a fantastic caravan was great to see. Thank you Mike & Jared!
Mike and Jared have had their patience well and truly tested by us. This was our first caravan and we didn't have any idea on what we wanted. These boys worked through the process with us, listening and informing us as we went, never being pushy and really wanting us to get exactly what we were after. Finally we pressed go and when our caravan was delivered we were overwhelmed. Have kept in contact since and will pop in and see them when we roll through Nelson next time. Cheers Lads.
Mike and Jared at SOTA RVS were awesome to work with. They made the whole experience of purchasing our Wild Trekker 18.6 easy and enjoyable. Great guys and a great Caravan!!
We ordered a new caravan at the NZMA show in Christchurch from Mike and Jarrod of Sota RV. They were friendly and obliging and in spite of being very busy they took the time to sit down with us and answer our questions. They never made us feel pressured to make a purchase. Delivery was delayed but Mike kept us fully informed throughout the process.
It was great to be able to sit down with Mike and Jarrod and choose our layout and colours. Both Mike and Jarrod were very supportive when we took ownership of our new Sunset Caribbean and came to the camp with us to ensure everything was set up correctly. They have always been available to us to answer any questions we had after purchase.
Sota RV have been great to deal with and have made the whole process of ordering a new custom off road caravan a breeze from the ordering to the delivery, with constant check-ins on progress to organising our pick up day. We are very impressed with the caravans appearance, build quality and performance. We loved that the caravan was already filled with water and gas upon our arrival so we could get cracking on the adventures without having to mess around!
We have taken our 18.6 Family Haven off road multiple times to remote 4wding areas and it has been an absolute game changer to family camping with young children!
10/10 for product and service.
Mike and Jared have been a pleasure to deal with. Product is great. We will be recommending to friends.
We have had such exceptional service from Mike & Jarod. They were absolutely amazing to deal with and both have great P R. We would not hesitate to recommend them to anybody. We wish them all the Best for their future business. Thanks Guys.
Firstly I want to make it very clear that my wife and I have not been paid to offer this testimonial and certainly only make statements when we are impressed with service and the people behind it.
Our story is probably unique. After a six week tour of the South Island in a relatively new, under warranty, brand name caravan, that we decided we would keep, we were sitting waiting to catch the ferry home. My wife glanced sideways at a magnificent beast of a caravan pulling alongside us in the next boarding lane. "Look at that, an 18.6 footer with a single axle." I looked right and there it was. I think it was at that exact moment a sale was already made.
I was looking at a grey with blue highlights, checker plate finish, 18.6 Sunset Wildtrekker Off Road caravan and man what a machine. Me and the missus were out of the ute like we had been told a bomb had been found under it. Time was short but we walked around it and Mike and Jared opened it up for us to give it the once over. We were blown away, this was next level with a beautiful finish and it had our full attention. Turns out they were on the way to the Covi show with three new caravans. The bait had been cast and this trout was on the line and heading for the net.
We spotted Mike and Jarod on the ferry and the interrogation of back ground, build quality, time to delivery and heaps of other questions began. Straightaway we could tell these guys were genuine and thoroughly believed in their product. An order was placed then and there with no hesitation at all. Five months later, an exact copy of the one we saw in Picton was being handed over to us and we think it's awesome.
Mike and Jared are great. Nothing is too difficult or too much trouble. My wife is a good judge of character and thinks they are great business people, personable and totally back up what is an amazing product. The caravan looks stunning inside and out and finished with quality materials and attention to detail. I am certain we are going to get a lot of use and have some comfortable and practical times with this unit.
Thank you Mike and Jared for your service and friendship.
Our 21'6 Rodeo Off Road is the perfect adventure van, which has already given us a lot of pleasure, "out there doing it" in the great NZ outdoors. More importantly, our relationship with Mike and Jarrod has been excellent throughout the purchase process, enduring all the trials of caravan builds the last couple of years have thrown at us all. Total respect to these guys for all their efforts to ensure we and the other SOTA clients have a caravan of high quality, with all the " bells and whistles ", to take caravan holidays to another level of enjoyment. And as a plus, the banter is pretty good as well!
Cheers.